Francesca Trotta
General Manager
Francesca holds an MBA in Shipping from Alba Graduate Business School, Athens and an MSc in Aviation and Maritime Navigation from the University of Naples, Parthenope. Before joining Iblea, Francesca has worked in business development for companies involved in the digitalisation of the shipping sector, and as a consultant in the aviation industry and in the research of new technologies for the UK government and for multinational companies.
Ero Dimitriadi
HR & OFFICE MANAGER
Ero graduated on 2010 with a BA in Business Administration from Athens Metropolitan College and in 2015 obtained an MSc in HRM from the University of Strathclyde, Glasgow. Since then, she has worked in various industries such as Oil & Gas, Airline and Electricity production, as an HR representative. Ero has joined Iblea at the beginning of 2022.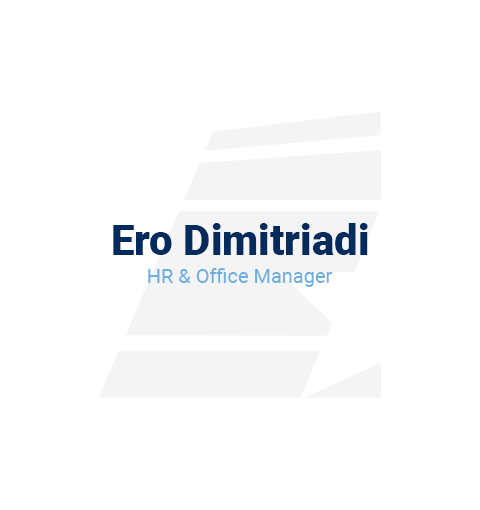 Francesco Amenta
Technical Manager
Francesco holds a M.Eng in Marine Engineering from Federico II University in Naples and joined Augustea in 2006, where he started his internship in the Technical Department. Francesco developed his career in the Group covering several positions and roles in PMS, Technical, Dry Dockings, Vessel S&P and Newbuilding in addition to several external projects.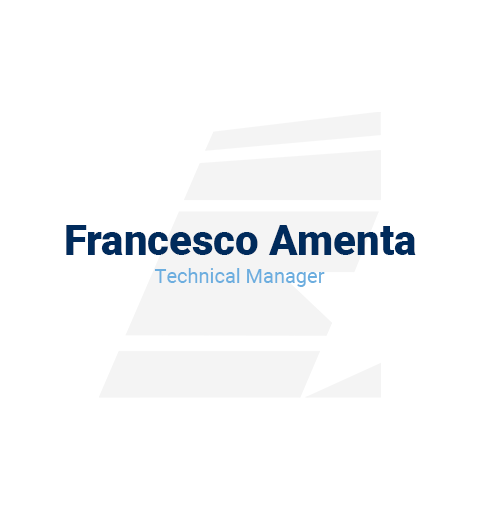 Paris Poulis
DEPUTY TECHNICAL MANAGER
Paris graduated from Merchant Marine Academy of Aspropirgos in 2000. He continued his sea career development on tanker vessels until 2013, when he got the chief engineer's license. In 2019 he joined a shipping company with bulk carriers as a superintendent engineer and he is currently Iblea's Deputy Technical Manager.
Spyros Grammenos
MSQE MANAGER/ DPA/ CSO
Cpt. Grammenos' academic studies focused on Maritime Law, Operations and Management and he is a professional in maritime security operations. He spent 14 years at sea with reputable Shipping Tanker Companies and as a Deck Officer before joining shore-based roles. Cpt. Grammenos served in various positions related to Marine, SQE, Security and Vetting Departments from Superintendent up to Top Management key positions and he is holder of Captain Class A' license. He is an associate member of shipping and security organizations.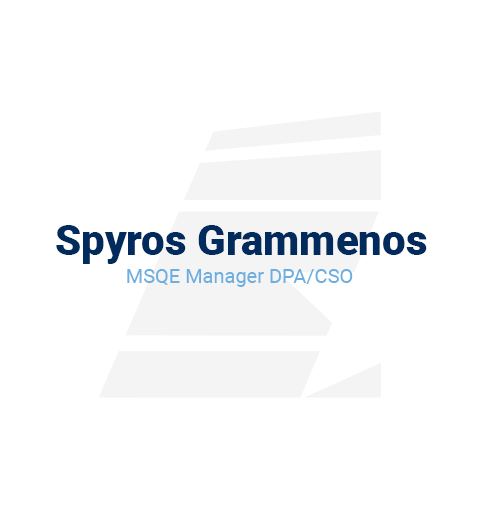 George Xanthis
DEPUTY MSQE MANAGER/ DDPA/ DCSO
George graduated from the Merchant Marine Academy of Kymi and started his career in the shipping industry as a deck officer in 2015. Holder of Captain Class A' license with extensive seaborne experience on crude oil tankers with high profile Shipping Companies. Started his career ashore in a Tanker Management Company as a HSQE-Vetting Superintendent, and currently he is the Deputy MSQE Manager / DDPA / DCSO.
Rosen Lesov
VETTING MANAGER
Cpt. Lesov joined Augustea back in 2010 as a master on Bulk carriers. He was internally transferred to the Vetting department and remains as of today vetting manager at Iblea. Cpt. Lesov holds an MSc degree in navigation and engineering from the Naval Academy ``Nikola Vaptzarov`` in Varna, where he graduated in 1989. He has a long sea service history on bulk and general cargo vessels for over 30 years.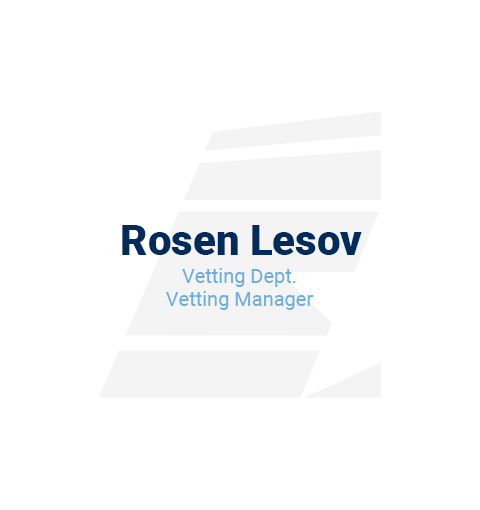 Vincenzo Mollo
PURCHASE MANAGER
After graduating from the Nautical Institute as Engineer Officer, Vincenzo continued building his experience working in dry docks, before joining the Italian Navy. Later, he graduated in Maritime Economics at the University of Naples, Parthenope. He has been involved in Augustea group for 20 years, before moving to Iblea.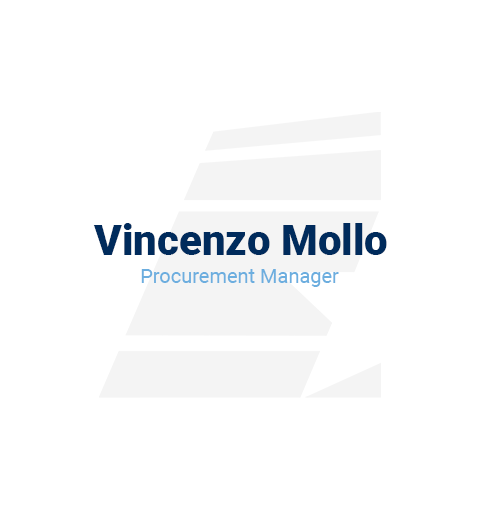 Teresa Esposito Corcione
PURCHASE SUPERVISOR
Before becoming purchasing supervisor of Iblea, Teresa spent 18 years with Augustea Group where she started her internship while studying Maritime Economics at the University of Naples, Parthenope. Later, she then became an assistant in the Operations Department. After 6 years, she then joined the purchasing department as an operator. Teresa's shipping industry expertise spans nearly two decades.
Giuseppe Azzarelli
CHARTERING MANAGER
Giuseppe holds an Advanced Diploma in Commercial Operation of Shipping obtained at the I.C.S. in London. He joined Augustea group in 2012. He is the Chartering Manager of Augustea Oceanbulk Maritime Malta Ltd, coordinating the commercial and operation department of the company. He has developed a long-standing experience in the commercial management and acquisitions of dry bulk vessels, covering the whole spectrum of asset classes and developing strong relationships with first class counter parties.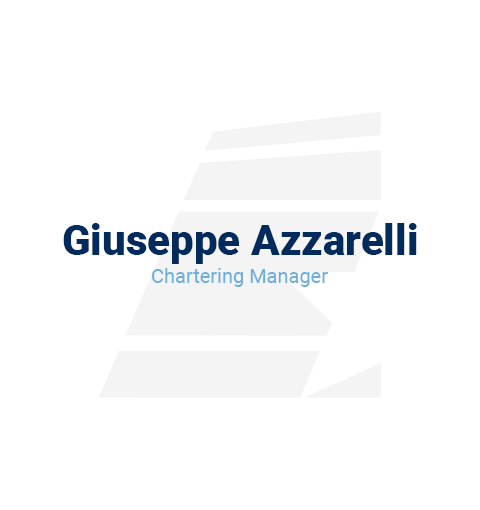 Aris Verouchis
OPERATIONS MANAGER
Cpt. Verouchis is a graduate of the Merchant Marine Academy of Aspropyrgos, Greece in 2006. He worked as a bridge officer on a Greek long established shipping company until he got his Master's licence in 2015. In 2019 he joined ashore a bulk carrier shipping company as marine superintendent where he was promoted to operator in 2020. In April 2022, he joined Iblea as Operations Manager and he is currently leading the Operations Department.
Cesare Guerrieri
CORPORATE & LEGAL DIRECTOR
Cesare, graduated in Law at the University of Catania. He also holds an MSc in Shipping Law (BIMCO) from London together with Company Law Course in Malta and other specialized courses. Legal Director of the Augustea Group, Director of several Maltese Group's companies with 30 years' experience in the Group's legal sector supporting, inter alia, vessel S&P, financing, and corporate management.
Kenneth Ciantar
IT MANAGER
Kenneth Ciantar holds a BSc in Electrical Engineering from the University of Malta. He joined Iblea in 2021 and Augustea in 2019 where he was appointed as Global Head of IT at Augustea Group of Companies. He has over 25 years of local and international experience in the Information and Communication Technology (ICT) sector. Kenneth has also served as Chief Technical Officer in a gaming Company and IT System and Network Manager in a major local bank. He is also a part-time lecture in preparing students for the CISA certification.